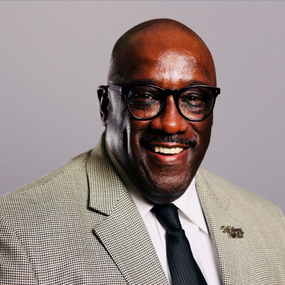 Dr. Larry D. Lewis is the Founder and Chief Executive Officer of the Impact Institute for Leadership, Transformation, Innovation and Student Achievement. The goal of the Impact Institute is to eliminate the Poverty Cycle and the School-to-Prison Pipeline by ensuring students come to school PreK- and Kindergarten-ready and reading on grade level by third grade.
Dr. Larry Lewis, Ph.D.
SLHA Advisor
Dr. Lewis, a former superintendent and teacher, has been on the cutting edge of education reform for many years. When students in Dr. Lewis' school district did not complete their Summer and Winter Reading assignments, they were not allowed to enroll in school until the assignments were completed. More than 1200 students were not allowed to enroll. All the students eventually completed the assignments and were enrolled. It is this type of visionary leadership that led the district schools to be authorized for Primary Years, Middle Years and Diploma Program International Baccalaureate.
Dr. Lewis has led the facilitation of National Blue Ribbon Schools, State of Texas Blue Ribbon Schools and Texas Education Agency Recognized and Exemplary Schools.
Dr. Lewis earned a Ph. D. from Texas A& M-College Station and a master's degree and Certificate of Advanced Studies from Harvard University, while completing the prestigious Urban Superintendents Program.
Dr. Lewis' motto is "Only Those Who See the Invisible Can Do the Impossible." He works diligently to make the "Impossible" commonplace every day for students and families.
Specializing in: Strong Foundation Training and Lone Star Governance